Find the perfect place in Bordeaux for your group
Customized Assistance If you wish, a Groupcorner team member will help you to select accommodations, negotiate the best rates and finalise your booking.
DashboardFind all your quotes, options and bookings in your Dashboard. Negotiate and exchange with the various accommodations without getting lost!
Optimized rates and free serviceStrictly no fee charged to you for the Groupcorner service. You book and pay directly to the selected accommodation.
You are insured!Book with Groupcorner and choose peace of mind. We offer you our "Sans-Surprise" insurance policy.

Don't ante for everybody!Create a Pot Commun to collect funds from group members.No need to advance money for your group.

More
Discover all the Groupcorner's advantages
More than 120 group accommodation
choices in Bordeaux
Hostels, hotels, campgrounds, resorts, unique & special places to stay...
Over 2 360 000 beds all across Europe


The regional capital of Aquitaine, based on the banks of the Gironde River, boasts a solid transportation network. It is located 550 km from Paris and Lyon, 700 km from Geneva and 900 km from Brussels. Flying, taking the train or driving your car: all modes of transport will take you to Bordeaux, even though some will turn out to be more convenient according to your dwellings.
The Bordeaux Mérignac Airport is 12 km from the city centre. For 7 €, shuttles will take you to the St Jean railway station; you can also hop on a tramway. The airport welcomes traditional airlines and low costs - with the innovative "Billi" terminal, designed to offer speedy access to planes. Both domestic and international lines are operated.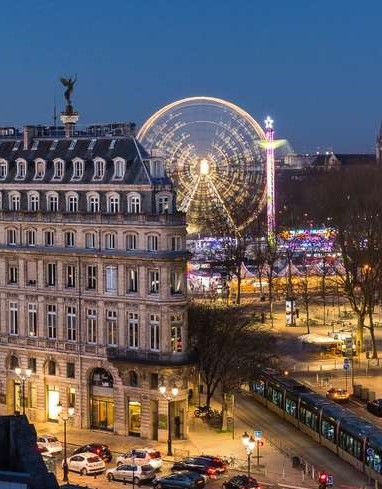 Bordeaux is well linked to the French railway network. From 2017 on, new fast track lines will link Paris to Bordeaux in just 2 hours! Besides, Bordeaux is on an important North-South axis linking Spain to Northern France, and therefore is equipped with good motorways. Driving to Bordeaux is definitely a cheap solution. If you cannot charter a whole bus for your group trip, try the new regular lines that have been developing since the liberalization of the sector started.
Bordeaux ranks among the top ten cities in France, and it is doubtless one of the most famous worldwide, thanks to its reputation as the world's "wine capital". It is no wonder that there is such a wide array of accommodations to suit the needs of groups, whatever their size.Let's take a tour of the main city districts. The inner center is on the left bank of the Gironde River, and most of the urban fabric has developed from there. This quarter encompasses some of Bordeaux's landmark attractions, such as the Place de la Bourse (Stock Exchange square) and the city's iconic posh buildings. Northwards, the Chartrons quarter is the historical home of the Bordeaux wine dealers. Today, it has both a cosmopolitan and bourgeois atmosphere and offers great shopping opportunities. On the right bank of the Gironde, facing the old town, the Bastide quarter is a former industrial site under reconstruction. It offers nice views on the city's monuments across the river, as well as a beautiful botanical garden.